Page 50 - Respond 2018 Magazine
P. 50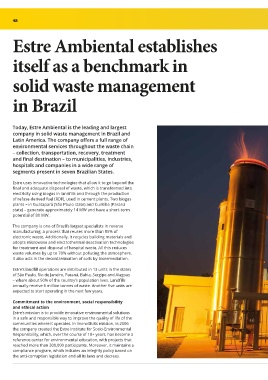 48


       Estre Ambiental establishes




       itself as a benchmark in



       solid waste management




       in Brazil






       Today, Estre Ambiental is the leading and largest
       company in solid waste management in Brazil and
       Latin America. The company offers a full range of
       environmental services throughout the waste chain
       – collection, transportation, recovery, treatment
       and final destination – to municipalities, industries,
       hospitals and companies in a wide range of
       segments present in seven Brazilian States.

       Estre uses innovative technologies that allow it to go beyond the
       final and adequate disposal of waste, which is transformed into
       electricity using biogas in landfills and through the production
       of refuse-derived fuel (RDF), used in cement plants. Two biogas
       plants – in Guatapará (São Paulo state) and Curitiba (Paraná
       state) – generate approximately 14 MW and have a short-term
       potential of 80 MW.

       The company is one of Brazil's largest specialists in reverse
       manufacturing, a process that reuses more than 85% of
       electronic waste. Additionally, it recycles building materials and
       adopts microwave and electrothermal deactivation technologies
       for treatment and disposal of hospital waste. All this reduces
       waste volumes by up to 70% without polluting the atmosphere.
       It also acts in the decontamination of soils by bioremediation.

       Estre's landfill operations are distributed in 13 units in the states
       of São Paulo, Rio de Janeiro, Paraná, Bahia, Sergipe and Alagoas
       – where about 50% of the country's population lives. Landfills
       annually receive 6 million tonnes of waste. Another five units are
       expected to start operating in the next few years.

       Commitment to the environment, social responsibility
       and ethical action
       Estre's mission is to provide innovative environmental solutions
       in a safe and responsible way to improve the quality of life of the
       communities where it operates. In line with its mission, in 2006
       the company created the Estre Institute for Socio-Environmental
       Responsibility, which, over the course of 10+ years, has become a
       reference center for environmental education, with projects that
       reached more than 300,000 participants. Moreover, it maintains a
       compliance program, which includes an integrity policy based on
       the anti-corruption legislation and all its laws and decrees.